Restaurant Review: Samwon Garden Korean Restaurant in Fort Worth, Texas
We tried spare ribs, lunchbox bulgogi, and seafood soup
The history of the business
This traditional-style Korean restaurant is one of the oldest and few Korean restaurants in Fort Worth. It opened in 2005 as a family-owned restaurant serving and introducing the community to a different flavor of food and tastes.
Needless to say, their many years in business continue to thrive. Amid witnessing a few economic downturns, Samwon Garden continues to serve some of the best dishes of the culture.
The business today
Today, the business is doing well. Management continues to be led by the husband, his wife, and his daughter.
The food we ordered
1. Spare beef rib marinated in Korean BBQ sauce
I can't tell you how amazing the spare ribs were. The flavors and the heat that came out of them were indescribable. When the waitress came out with this sizzling hot plate of ribs on top of a bed of caramelized onions on a cast iron pan, you already knew that it was going to be good.
But when you bite into something like this, it's just amazing. It was sweet and at the same time meaty and juicy. The funny thing is, the way it was marinated was so light. And the quality of the meat was superb. Now you wouldn't be asked how you want them to cook beef strips because most of the time it would automatically be medium-rare. It was still kind of cooking when it came out since it was on top of a cast-iron pot.
I'm telling you guys if you ever come here and don't know what it is you want to get, this is the dish that you will remember the most. In my opinion, it's their greatest dish so far.
2. Lunchbox special spicy bulgogi
My wife got the lunch box special. She opted in for the spicy bulgogi. She really enjoyed it because this is the kind of meal that had a tiny little sample of almost everything. But don't let that fool you. There were so many things on her plate.
They practically fit a variety of different compliments along with a few samples of sushi cuts, some tasty glass noodles, rice, and the spicy bulgogi. It wasn't too spicy from what I recall. Now I'm not a big spice eater but I do appreciate a little bit of a kick in some of the food I eat.
The spice was enough for me to appreciate back kick but at the same time, a simple sip of our drinks was enough to clear it out the fire. On a spicy scale of 1 to 5, I would say it's merely a 2.
Overall she really enjoyed her meal. She's not one of those people who really enjoy food as much as I do, but every time we go out and crave Korean food oh, this would be the place she would suggest.
That's telling you something.
3. Boil soft tofu with vegetables and seafood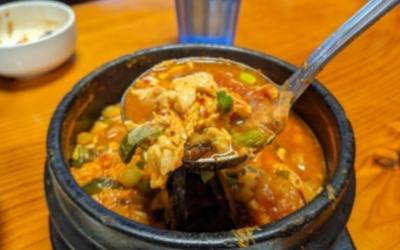 This was a fiery red soup with lots of seafood and lots of really soft tofu in it. What's funny is that it was pretty delicious. It wasn't even as spicy as it looked. Since it was the last thing for us to eat in our meal, we couldn't finish it. We ate almost everything else except for a small bit of the soup.
However, we don't waste food and we brought it home with us. The next day oh, we reheat that soup up and devoured it. We threw some of our own rice into it and man was it good. It was so rich in clams and shrimp. And these tofu slices literally fell apart. They were so soft.
Eating this as leftover food was just perfect for an evening meal we had after coming home from work. I ended up slurping down my bowl.
I was even a little sad that we ran Indescribably indescribable out.
Our experience
Quality of food
The food we ordered was fresh right out of the kitchen. The spare ribs I had were smoking and sizzling of the cast iron plate that we would serve to us on.
The waitress brought out multiple small dishes for us to sample. This kind of thing is normal in a lot of Korean restaurants. You get these tiny little dishes with different flavors and marinated meats and vegetables. You can think of them as complements to the food your main course.
The rice, do the rice. I got to tell you, they got the rice right. And they served it in these metal bowls. I wasn't sure if I was able to order more rice but I didn't need to. It was so much food on the table.
Service
We very much enjoyed the service. The daughter was our server and let me tell you, she has a wonderful personality. She made us feel completely welcome in a place we've only been to a year ago. She would regularly walk by and ask if we were doing okay. And that's something you can appreciate.
It was a late lunch, and there were about 4 other tables occupied with families. Needless to say oh, it was very busy for her because she was likely the only server. But she did a great job in managing all our tables.
Oh, how could I forget, probably the most important thing I noticed about the server. A few of the customers must have been regulars. While she was working, the date had a lot of small talk about each other's day and how they were doing. I know it sounds like I'm eavesdropping but really they were talking quite casually and it was a quiet restaurant. I think what she displayed here was great. Getting to know your customer, especially your regulars, is an important step in building trust and brand. It keeps people coming back for more.
Kudos to you.
Interior
It's an old-style restaurant. It's not one of those fancy places that you often see in the downtown areas of Fort Worth. There's nothing fancy. But the vibe it gave you was something special.
There were these decorations on the side next to art seats that were made of paper walls that have since been splashed with some food perhaps and maybe a few fingers that pop through them. You could tell they were old. But I wasn't complaining, and there wasn't anything wrong with it. I just see it as a place that proved it was established.
It's that type of place that reminds you of when you were little and how your parents would take you out to eat on the weekends.
Exterior
Samwon Garden can be found at the corner of a shopping building pointing out towards the street. The building will have these big giant letters written in Korean. And right underneath, you'll see the words Samwon Garden.
Value
When you go to a Korean restaurant, the type of food you're going to be eating is very unique, at least in reference to its location. And here in Fort Worth as one of the oldest Korean restaurants in town, they also fit the title of what I believe is probably one of the best.
What you get when you visit this place is an exceptional meal with all the works.
Our thoughts
I absolutely loved coming here and I wish I could come here more often. The food was just nothing short of amazing. I enjoyed all the dishes and every main course we ordered.
Restaurant information
Star rating
1 star =Poor. There's nothing good about the restaurant. You won't be returning.
2 stars =Okay. The restaurant has one or two good qualities. It might be a delicious dish, helpful staff, or an inviting atmosphere. Still, you have no interest in visiting again.
3 stars =Good. A fine example of a specific kind of restaurant. It can be delicious food with excellent service. You may think about returning if you wish to have that particular cuisine.
4 stars =Excellent. Delicious food, appealing atmosphere, helpful staff, and brilliant service.
5 stars = Extraordinary. Meets an elite standard by which you judge all other restaurants. The staff is always ready to help, the premises are extremely clean, the atmosphere is lovely, and the food is both delicious and beautifully presented.