Fannie May S'Mores Snack Mix: Deliciousness With a Smile
I am not sure about you, but I love s'mores. There's something about the gooey marshmallow and chocolate that just makes me happy. But what if you don't have any graham crackers or a campfire? Well, then these Fannie May S'Mores Snack Mixes are for you! They're available in premium milk chocolate with a delicious crunch of graham combined with fluffy marshmallows coated in rich, creamy milk chocolate.
Where can you find Fannie May S'Mores Snack Mix?
We bought these the other day at Costco. They were in the checkout lane, and they caught our eye. We saw that it was a bag of Fannie May S'Mores Snack Mixes in milk chocolate with graham crackers and marshmallows coated in rich chocolate.
What we loved most about this product is how well-crafted these snacks are. They're delicious. The store didn't have much left as you can tell from the empty spot on the shelf, but we found some packs that were still tucked away.
I'm sure you can find these in more locations, in other stores, and on the internet.
How is Fannie May S'Mores Snack Mix packaged?
These treats were packaged in a zip lock sealed aluminum bag. The design of the bag was simple and eye-catching.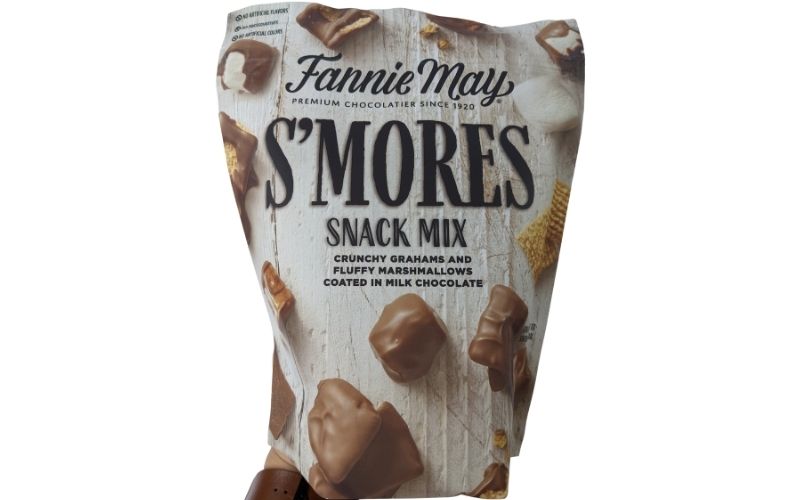 There was an off-white background with nuggets of broken chocolate with marshmallow and graham cracker interiors scattered throughout the bag. I think the bag looked great!
This is the main reason I decided to take a chance and buy it.
I loved the design of the packaging and I was pleased when it looked great in person too!
The bag is resealable, so you can store your snacks for later without them getting stale or old-tasting.
Most importantly, these are delicious treats that will satisfy a sweet tooth craving any day. It's perfect.
What are the nutritional facts of Fannie May S'Mores Snack Mix?
One serving size of the snacks was equal to 1/2 cup or (30g). This amounted to about 140 calories.
It's not exactly a low-calorie snack but the serving size was more than enough to satisfy a craving.
The snacks were high in sugar and fat.
They do not contain any preservatives or artificial colors which is great because it means that these chocolates are all-natural.
In every serving, you get:
8g of fat
40g of sodium
1.5g of protein
16g of sugar
20g of carbs
The calorie intake per serving isn't that great but if you're looking for a sweet and satisfying snack, this is a perfect choice.
If you're thinking about buying this snack, just don't worry about the intake. Enjoy it!
What is Fannie May S'Mores Snack Mix made of?
Now in every bite, you are looking at getting a little bit of: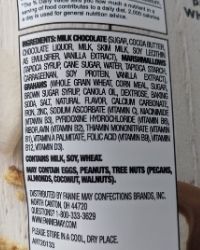 Milk chocolate
Sugar, cocoa butter, chocolate liquor, milk, skim milk, soy lecithin as emulsifier, vanilla extract
Marshmallows
Tapioca syrup, cane sugar, water, tapioca starch, carrageenan, soy protein, vanilla extract
Grahams
White grain wheat, cornmeal, sugar, brown sugar syrup, canola oil, dextrose, baking soda, salt, natural flavor, calcium carbonate, iron, zinc, sodium ascorbate (vitamin C), niacinamide (vitamin B3), pyridoxine hydrochloride (vitamin B6), riboflavin (vitamin B2), thiamin mononitrate (vitamin B1), vitamin A palmitate, folic acid (vitamin B9), vitamin B12, vitamin D3).
This snack also has a warning that it contains milk, soy, and wheat, along with eggs, peanuts, tree nuts such as pecans, almonds, coconut, and walnuts.
All these ingredients truly do sound all-natural. I was really happy with the ingredients they set into this product simply because I know what I'm eating is safe.
It's not often that you see a company with such precautions for their products, but this was refreshing to know.
What does Fannie May S'Mores Snack Mix look like?
I was super surprised as I tore open the bag in looking at the product. It looked like a big pile of chocolate with little brown pieces in it — but when I reached and grabbed some, they were all crunchy! The snacks themselves are so delicious, sweet, and gooey that you can't help but love them.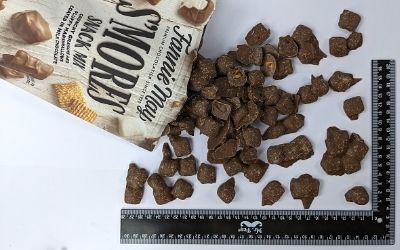 The snack mix is made up of graham crackers coated in milk chocolate and marshmallows coated in milk chocolate.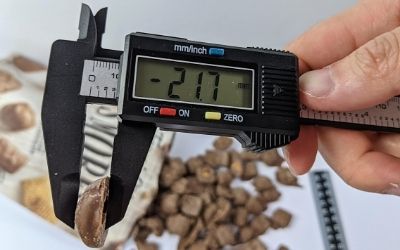 You can tell that Fannie May kept the graham crackers and the marshmallows separate because they were in each of their clusters throughout the bag.
I enjoyed the chaotic non-symmetrical looks of these imperfectly sized bites because you didn't know what you were going to get until you bit into them.
These snacks were created in these small nickel to quarter-sized clusters. And as you can see it was as thick as 21.7mm and as long as about 2cm.
How's the texture of Fannie May S'Mores Snack Mix?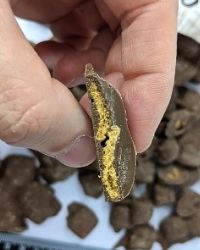 The chocolate was almost always crispy and crunchy. But there were 2 versions of textures that you could bite into.
The first one was the graham cracker surrounded by milk chocolate. It was extra crunchy. I don't know how Fannie May did it, but each bite I took was always crispy.
The other one was the marshmallow in milk chocolate. It had a more soft and gooey texture. I liked it, but I preferred the crunchiness of the graham crackers with milk chocolate over this softer version.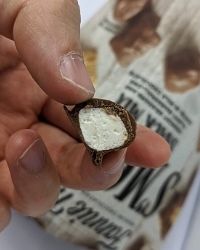 But overall both textures were delicious because they weren't overwhelming like some candies.
At the time of trying these out, I was just really craving something sweet and so that behavior probably clouded my judgment, but these snacks are in all sense of the word really sweet.
How long does Fannie May S'Mores Snack Mix last?
The bag marks at the bottom with the best use before the date that gives me roughly 10 months since the day I bought it. I would say this falls in line and is an acceptable expiration date.
I doubt it will go bad on that day that you'd need to throw it completely away, but I'm also sure it might taste a lot differently if I had held onto it for that long.
Overall, 10 months is plenty of time to empty this bag and all its contents.
It probably won't even last till the end of this month.
How would I rate Fannie May S'Mores Snack Mix?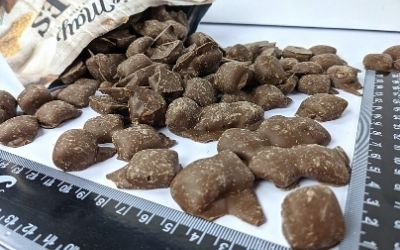 The taste was pretty great. The snacks were sweet, crispy, and satisfying. They contained milk chocolate which made them even more delicious! I liked that the company used natural ingredients to create these chocolates because it's better for your health in the long run. This snack is more than enough to satisfy a craving so don't worry.
Who makes Fannie May S'Mores Snack Mix?
Well, the people who make these incredible treats are none other than Fannie May.
This company has been blasting out premium chocolates since 1920.
They pride themselves on making chocolate only from the finest ingredients from around the world. They've handcrafted hundreds of flavors that contain no preservatives, artificial colors, or flavors.
The company believes in crafting tasty chocolates with love and passion which is why it has such a loyal following.
They started in Chicago and have now worked their way up to the entire nation.
It's a company with a powerful legacy to back them up.
Related interesting articles: