Haagen-Dazs Crispy TRIO Layers Review: OMG to Flavors & Textures!
When it comes to premium ice cream, Haagen-Dazs is what comes to mind. There's no doubt in my mind that Haagen-Dazs puts all their energy into making some of the best flavors in the market.
When I saw this bucket which had 3 different flavors on it, I knew I had to try it out.
So what's the verdict on this multi-dimensional flavor of ice cream? The Haagen-Dazs Crispy Trio Layers is an absolute joy of flavors. The combination of Belgian chocolate, coffee, and vanilla is not just mixed with this ice cream flavor, it's individually layered into the core. It's very similar to a multi-layered cake. In short, the flavor is a chocolate and coffee lover's dream.
Yeah when you see a proud company like Haagen-Dazs put out a product in which they just throw a bunch of features into it, then you have to give it a shot.
Where can you find Haagen-Dazs Crispy Trio Layers ice cream?
You can find Haagen-Dazs Crispy Trio Layers ice cream at almost all major retail chains. These chains include Kroger, Walmart, Albertsons, Publix, and even your local drug store Walgreens may carry this.
There are also options online for same-day delivery where you can actually get frozen ice cream delivered to you.
How is Haagen-Dazs Crispy Trio Layers ice cream packaged?
The specific container we brought home with us is the 14fl oz (414mL) one.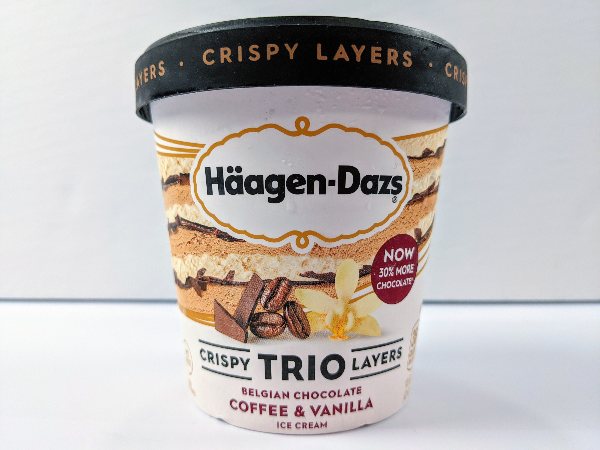 It's the perfect size to indulge in. It basically looks like the size of a can of corn and feels just as hefty.
I don't often see Haagen-Dazs buckets being as big as the competition. It's probably because of the expensive ingredients used compared to the rest. This perhaps forces them to make the ice cream in smaller packages.
The bucket design wouldn't make any heads turn. I actually didn't even pay attention to the background in the beginning.
Honestly, I think the design could've been done a little better. It's just a little hard to tell what's in the picture at first glance.
What are the nutritional facts of Haagen-Dazs Crispy Trio Layers ice cream?
Funny enough, one serving is approximately 123g. That's actually ⅔ of this container.
When we talk about nutritional facts with the typical Haagen-Dazs ice cream, we shouldn't be expecting a low-calorie dessert.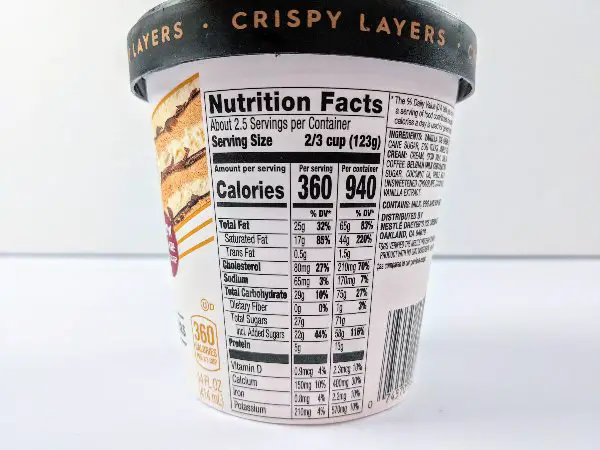 In every serving of Haagen-Dazs Crispy Trio Layers ice cream, you'll find:
25g of fat
65mg of sodium
5g of protein
27g of sugar
29g of carbs
How many calories do you end up with on one serving? 350.
That's a lot of calories when you compare it to the typical serving of plain ice cream which stands that around 137 calories.
That's completely fine though. I mean, this is Haagen-Dazs. It's the type of ice cream for the indulgers, not for the health-conscious.
Hang on, I know what you're probably thinking, but I can assure you. You won't gain a ton of weight if you eat this responsibly.
What is Haagen-Dazs Crispy Trio Layers ice cream made of?
If there's one thing you should know about Haagen-Dazs, is that they don't skim on the ingredients. When it comes to what they put into their ice cream, it's their heart and soul.
Take a look at the ingredients.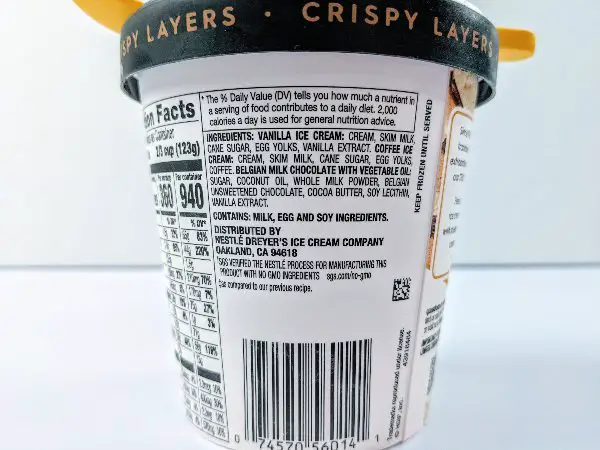 What you'll find in every bite is:
Cream
Skim milk
Cane sugar
Egg yolk
Vanilla extract
Coffee
Sugar
Coconut oil
Belgian unsweetened chocolate
Cocoa butter
Soy lecithin
Notice that none of the items on this list is a word you can't pronounce? That's how the ingredients are chosen. They are natural ingredients that are perfect for the purist.
A few words of caution are that it contains milk, egg, and soy ingredients which may be important for people who have an allergy to it.
What does Haagen-Dazs Crispy Trio Layers ice cream look like?
Haagen-Dazs has really done something special with this flavor. When you think about triple flavors in ice cream, you often think about how ice cream makers divide a bucket into 3 different parts and pour the flavors separately into each.
That's not how Haagen-Dazs sees their ice cream product.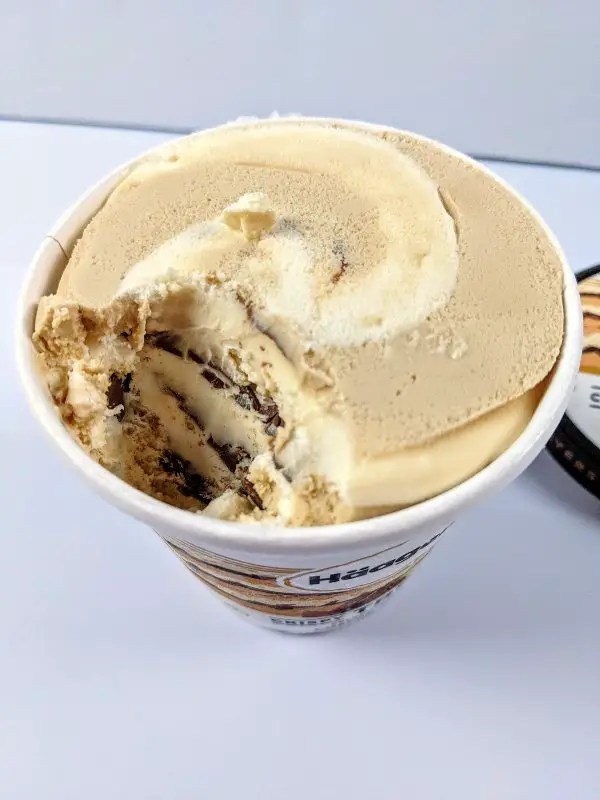 To my surprise, they actually place several layers of these ingredients back to back! Incredible!
It looks so authentic as if someone actually took the time to carefully place each layer on top of the other.
It reminds me of people who make multi-layered cakes with varied fruit slices.
The vanilla and coffee are swirled together and so in a cross-section, you'll see lines of light tan colors which is the vanilla, and light brown colors which is the coffee.
How's the texture of Haagen-Dazs Crispy Trio Layers ice cream?
Where do I begin? This has got to be the prize of what Haagen-Dazs should be awarded.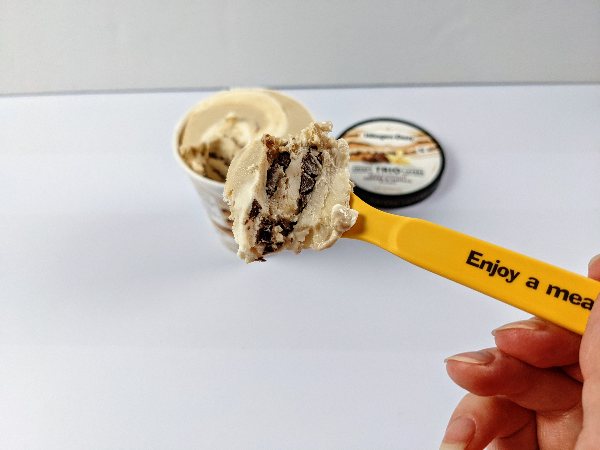 Most significant to every bite is the massive crunch you'll experience when you take your first bite. That is due to the big chunky chocolate plates you'll find inside.
Haagen-Dazs doesn't skim out on the chocolate, a typical bucket has a lot of chocolate layers, I'd estimate that there's a chocolate layer every 2 cm or so.
As for the other flavors, you get a swirl of rich creamy vanilla and rich creamy sweet coffee. These flavors can only be described as really, really creamy.
Do kids like Haagen-Dazs Crispy Trio Layers ice cream?
The Haagen-Dazs Crispy Trio Layers ice cream is a wonderful dessert for the whole family. Your children will love the crunchiness of the semi-sweet dark chocolate. It's sweet and not bitter.
The coffee is sweet as well and not much bitter at all.
And of course, the creamy vanilla is an all-time favorite so kudos for playing it safe Haagen-Dazs.
My children had almost no problems with it at all when I asked. They just wanted more.
What can you eat with Haagen-Dazs Crispy Trio Layers ice cream?
Haagen-Dazs Crispy Trio Layers ice cream is an amazing dessert and I can't think of anything that would go really well with it. It's got 3 different flavors that you can distinctively tell from every bite.
With that many flavors, I'd say, eat this on its own.
I have no recommendations on toppings at this point.
To me, it's pretty sweet enough and has plenty of flavors packed into a single bite.
How long does Haagen-Dazs Crispy Trio Layers ice cream last?
Based on the expiration date and the time Haagen-Dazs Crispy Trio Layers ice cream was purchased, you would typically have 10 months of freezer life.
This shouldn't be a difficult thing to accomplish, because of how addictive Haagen-Dazs can be. But if you happen to forget about it, I can see how someone can have expired ice cream.
How would I rate Haagen-Dazs Crispy Trio Layers ice cream?
On a scale of 1 to 10 on the frozen food ice cream standard? I would say that Haagen-Dazs Crispy Trio Layers ice cream takes the cake with an 8/10.
I believe they layered it just right. Every flavor plays its own unique part in every bite.
I think they found just the right amount of flavors and I'm glad they didn't skim on the chocolate chunk.
Every spoonful I've taken comes with a thick, cold, and crunchy piece of chocolate. I really appreciate Haagen-Dazs's focus on attention and how they engineered every bite to work exactly the way they want it for their customers.
However, one thing I would like them to ease back on is the sweetness. This ice cream is really, really sweet. I'd say it's sweeter than the average bucket of ice cream. If you have a solid craving for something delicious and sugary, this is it.
When it comes to Belgium chocolate, it's considered dark chocolate. The sweetness of the vanilla and coffee masks the bitterness but then you start to taste that bitterness on your tongue after swallowing.
Overall, I think Haagen-Dazs created a clear winner here. This isn't your typical multi-flavored ice cream. This is a fully crafted multi-LAYERED treat.
Who makes Haagen-Dazs Crispy Trio Layers ice cream?
As a company that originated from the Bronx, New York in 1960, Haagen-Dazs has a long line of history and growth.
The company started off with mere 3 flavors, vanilla, chocolate, and coffee. Since then, they've grown into a massive company.
They currently have over 50 items and have delved into dessert products other than ice cream. As time moves on, Haagen-Dazs continues to progress and improve its craft.
Other interesting articles: