Costco's Gourmet Chocolate Chunk Cookies Review: Oh it's No Joke!
If you're an avid Costco shopper like I am and you've spent your time around the corner at the bakery aisle, you've got to have seen the pallets of fresh cookies they put out.
Costco really knows their stuff. I mean, they stack cases upon cases worth of big chunky cookies right out there in the open and expect us to buy it.
Jokes on them, I only got one this time.
In this article, I want to review Costco's very own in-store baked chocolate chunk cookies. Spoiler alert, this isn't the only and last time I will be buying them. I've had them for years and they have become a staple in our family lives.
Where can you find Costco's Gourmet Chocolate Chunk Cookies?
You can find Costco's Gourmet Chocolate Chunk Cookies in almost every single Costco store in America. The bakery is the department that should be recognized for this amazing treat.
If you make it to the store, chances are that the bakery is located towards the back of the building. Walk all the way to the back and you'll see a section made entirely for bread, cakes, pies, and of course, cookies.
What type of packaging does Costco's Gourmet Chocolate Chunk Cookies come in?
Costco's cookies are baked then placed into these perfectly fitted trays that hold roughly 24 cookies.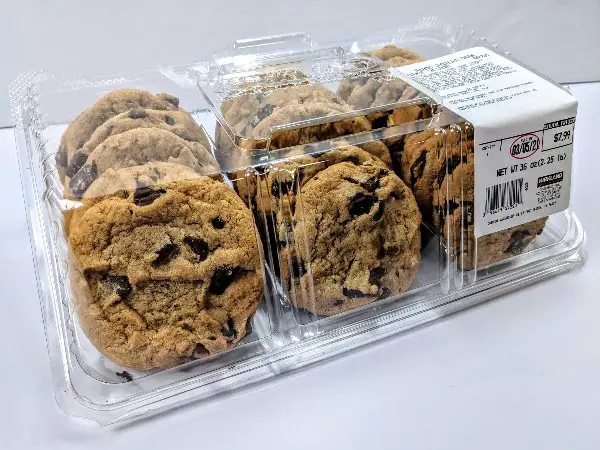 The plastic trays are completely transparent and so you can see right through the container. The container itself is sealed and closed by using dimples build-in to the container molding that shows up on the top and bottom of the lid.
What are the nutritional facts about Costco's Gourmet Chocolate Chunk Cookies?
The nutritional facts are not stated on the cookie tray. In fact, I had to search the web for this information and found this here for nutritional facts on a website called calorieking.com.
A single serving is considered 1 cookie and this single cookie consists of:
11g of fat
120mg of sodium
3g of protein
16g of sugar
27g of carbs
This ultimately calculates to a calorie intake of 210. For a single cookie, that does seem a bit drastic, but if you can see the size of these cookies, you might agree.
Nothing in the list of nutrients seems too far out of the ordinary.
After looking online for an ordinary cookie's stats, I fell upon the nutritional facts of a medium-sized cookie which rated almost every aspect of it about ¾ of the cookie I'm reviewing today.
I would consider Costco's cookie to be on the larger side and so I'm willing to accept these nutritional facts are common and standard.
What are Costco's Gourmet Chocolate Chunk Cookies made of?
As I'm getting through the list of ingredients that Costco has provided to us for its cookies, I'm not seeing anything out of the ordinary. In fact, most of the ingredients in this list are very standard.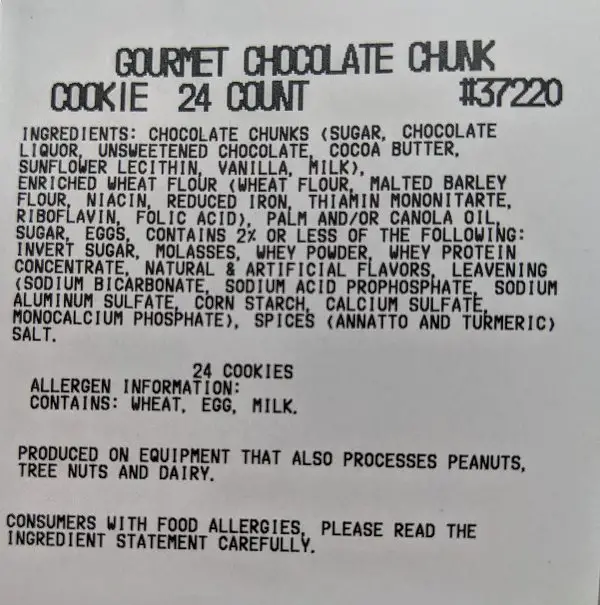 However, they do add on artificial flavors which I am curious about. But other than that there's no real need to be concerned in my opinion.
I want to stress however that these are chocolate chunks and not just regular chocolate chips. Chocolate chunks are large uneven blocks of chocolate while chips are those miniaturized Hershey's Kisses shaped chocolates.
If you have any type of food allergies I think it would be important to know that these cookies do contain Wheat, eggs, and milk. These cookies are also processed in locations that process peanuts, tree nuts, and dairy as well.
How does Costco's Gourmet Chocolate Chunk Cookies look?
They look amazing. If you're like me and you like to look at the mountain of cookies that Costco has on display, you'll notice that they're all uniformly cooked with golden brown colors.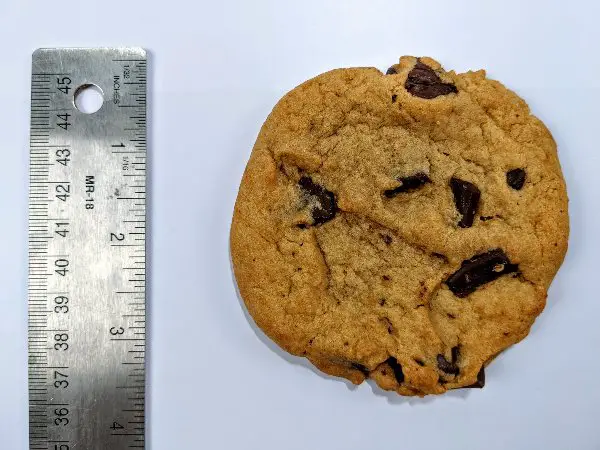 Quite honestly these look perfectly cooked.
Whatever machine or heavy equipment that they are using to bake these cookies is top-notch. I would also like to argue that perhaps the employees are extremely well-trained.
I've made batches of my own cookies before. I always end up browning the bottom of those cookies. With these cookies, you won't see any of that.
How's the texture of Costco's Gourmet Chocolate Chunk Cookies?
 The texture of these cookies is actually softer than they are crunchier. They obviously don't have the same texture as a Chips Ahoy cookie, but that doesn't mean it just breaks apart in your hands.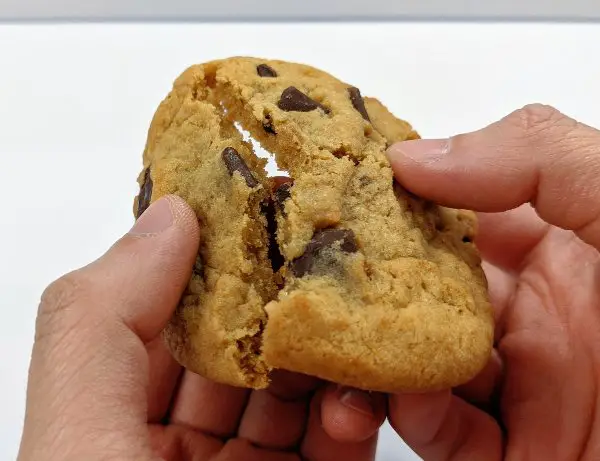 Because these cookies are so well baked, I think they are almost perfectly textured all the way around. Costco has really done a great job.
Do kids like Costco's Gourmet Chocolate Chunk Cookies?
Costco cookies are always a win in the household when it comes to children. With the perfect consistency of sweetness,  texture, and flavor, the children absolutely love these cookies especially with milk.
 I mentioned above that we buy these cookies whenever we can. I wasn't lying.
What can you eat Costco's Gourmet Chocolate Chunk Cookies with?
I have a bunch of ways to eat these cookies. But I think the most convenient, and tastiest way to enjoy these treats is with a tall glass of ice-cold milk.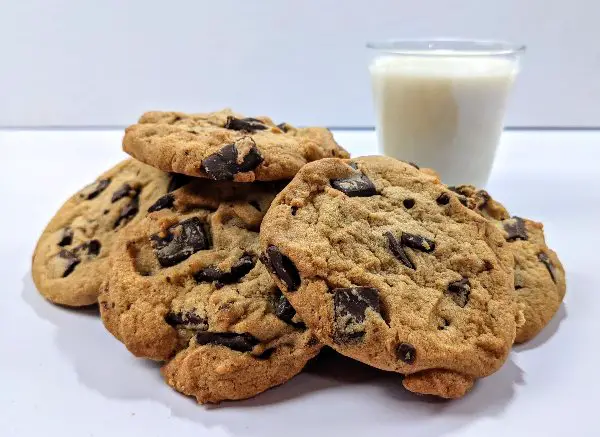 Once you get the cookies into this milk and then take a bite of it oh, it's like heaven. I'm not sure if you already came up with the assumption by now that I have a sweet tooth.
How long does Costco's Gourmet Chocolate Chunk Cookies last?
From the moment the cookies come out of the oven, Costco slaps a label onto the cookie tray that gives it less than a week to be sold.
Now from my experience, homemade or baked cookies can be stored at room temperature for 2 weeks. There are times when it can hold out for three weeks, but it becomes very hard, dry, and stale at that point.
Here is a pro-tip, if you want them to last longer you have to seal them away from the air.
I tried to limit my kids and myself from having too many cookies, but you know what it's like buying things from Costco. You have to buy it in bulk and these cookies are no exception. With 21 cookies, I feel that's just too much to finish Within a week or two.
That's why I recommend that if you do buy Costco cookies, but don't want to eat them all within a couple of weeks then you should purchase an airtight container.
How would I rate Costco's Gourmet Chocolate Chunk Cookies?
I absolutely love these cookies, they have a well-cooked hard exterior texture as well as a consistent and soft middle area.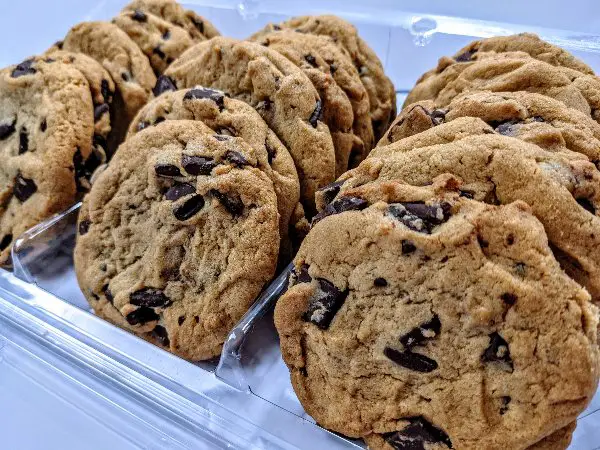 The flavor is just perfect. Is sweet and savory all at the same time. The ingredients they use are mostly fresh and normal.
I love the way Costco goes straight into using chocolate chunks instead of the plain and boring chocolate chips. I absolutely love chocolate and to see such large blocks of chocolate chunks in my cookie is a must. Don't ever switch to chocolate chips, Costco! What you have here is gold!
I absolutely recommend anyone who is interested in Costco's chocolate chunk cookies to try it out for the first time. You really won't regret it.
Who makes Costco's Gourmet Chocolate Chunk Cookies?
Costco started back in Seattle in 1976. It has since become a very large American multinational corporation with almost 800 locations and over a hundred million members.
Today, it is a multi-billion-dollar company with strong and outstanding business ethics. It is a membership warehouse club that is dedicated to bringing members the best possible prices on quality brand-name merchandise.
If you'd like to learn more about Costco, visit their website here.
Other interesting articles: