Pierre Signatures Angus Cheeseburger Review: Nostalgia Flavors!
There are times in life when you get that weird craving for something meaty and delicious. All you can think about is a nice thick juicy burger in your hands. Unfortunately for me, I get that feeling ALL of the time.
I can't say what it is really that attracts me to the All-American cheeseburger, but I never question the motive. I'm always up for the challenge of finding it.
But here's the crazy thing. After researching about the company, it turns out they manufacture food specifically for public schools. In fact, this cheeseburger is it's commercialized version of the ones it served in your middle school cafeteria!
Cheeseburgers can come in all different shapes and sizes. It's all about the combination of the patty, the bun, the lettuce, tomatoes, and onions. It's complemented by ketchup, mayo, and mustard. Just the image alone in my head has got my mouth watering.
Where can you find Pierre Signature Angus Cheeseburgers?
During my weekly grocery shopping routine, I decided that I would finally get those frozen burgers in the freezer aisle. The Pierre Signature Angus Cheeseburgers can be found at your local Costco.
What type of packaging does Pierre Signature Angus Cheeseburger come in?
The box was just any typical box, but the picture on the box was of a mouthwatering cheeseburger with the works. Each individual cheeseburger is sealed in a well-labeled plastic bag. These individual plastic bags have their own nutritional facts and cooking instructions so if you wanted to throw away the box, you can.
Don't worry though, my thoughts were that this is a frozen cheeseburger. It's nothing like a freshly grilled burger from a burger joint. I won't fall for the hype, and I especially better not fall for the picture-perfect burger on the box.
I wanted to try it out anyway and the kids love burgers so I thought, what the heck, let's do it.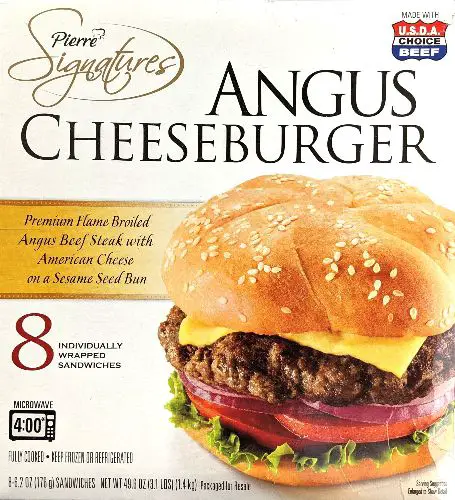 I got a box of 8 completely wrapped individual sandwiches and I was off to the checkout lines.
What are the nutritional facts?
Now I know there's really no point in asking this. It's a cheeseburger. You're supposed to enjoy it without the worry of what it's made of.
Judging from the front of the box, we only know that the meat patty is made with U.S.D.A Choice Beef. But if you're curious as to what exactly it is that you can hope to gain (literally) from eating such a burger, then here are the facts.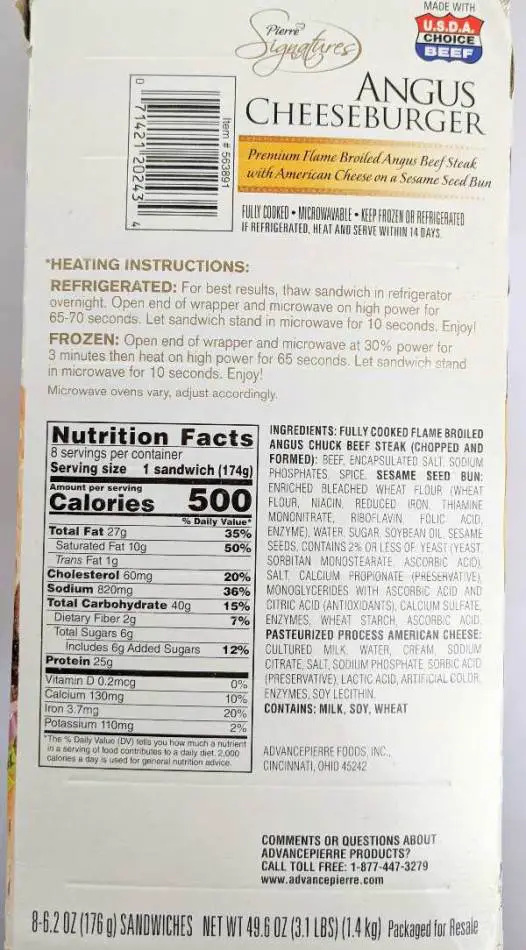 Each serving is considered a single burger and each burger has:
27g of fat
820mg of sodium
25g of protein
6g of sugar
40g of carbs
Consuming a single burger here, offers you a total of 500 calories. It's not exactly the healthiest choice, but it's certainly not the worst.
The ingredients used in the sandwich all seemed typical of any burger so there wasn't anything that alarmed me when skimming through the list.
However, it does contain milk, soy, and wheat if any of you so happen to be allergic to such things.
What comes in a Pierre Signature Angus Cheeseburger?
It's not that difficult disassembling a cheeseburger. You're welcome.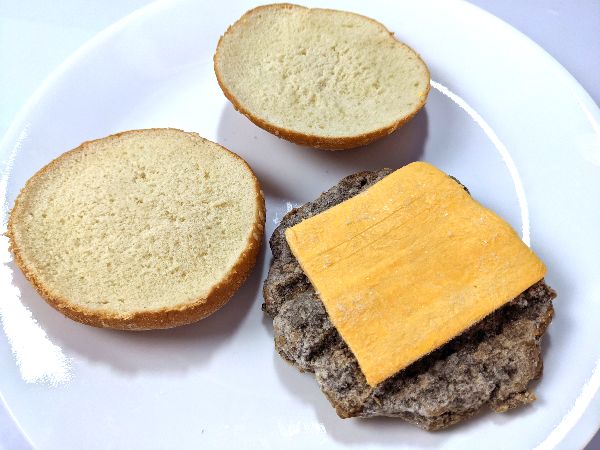 You can see here that the cheeseburger has the typical 2 buns, a huge meat patty with a slice of good ole American cheese on top. Nothing too special here, however, you'll notice that the patty does have grill lines on it so that's always a plus.
It's also pretty obvious that the patty is grilled due to the front of the box mentioning that as well.
How big is the Pierre Signature Angus Cheeseburger?
Let's talk about the size and measurements of the burger itself. I hate it when you buy something because it looks big on a box and when you bring it home, it's not even close to the size you thought it would be.
Below are a few pictures I've taken with a ruler beside it to give you a good idea of how big it is.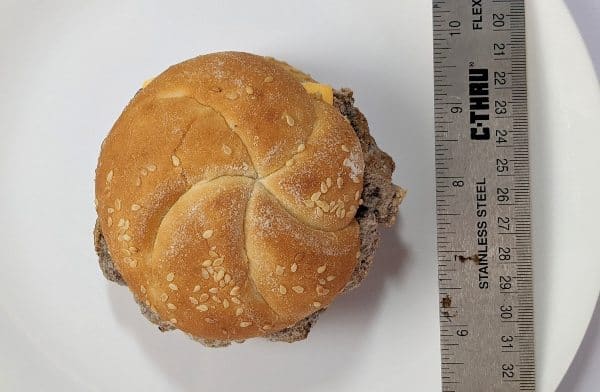 The burger is roughly about 4 inches or approximately 10 centimeters in diameter.
That's pretty decent for a sandwich so I'm not complaining about that. I really do like how the meat hangs out beyond the bun though.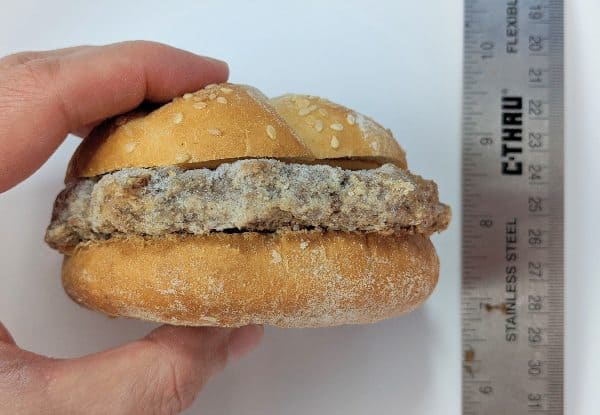 Here you can see that the thickness of the sandwich is approximately 2 to 2 ½ inches (5-6.35cm). This is a pretty thick burger. Just look at the meat patty. It's about the same thickness as one of the buns. That's definitely always a good thing.
I would also like to add that each individual burger weighs just about 6.2oz (176g).
How does the Pierre Signature Angus Cheeseburger look after being cooked?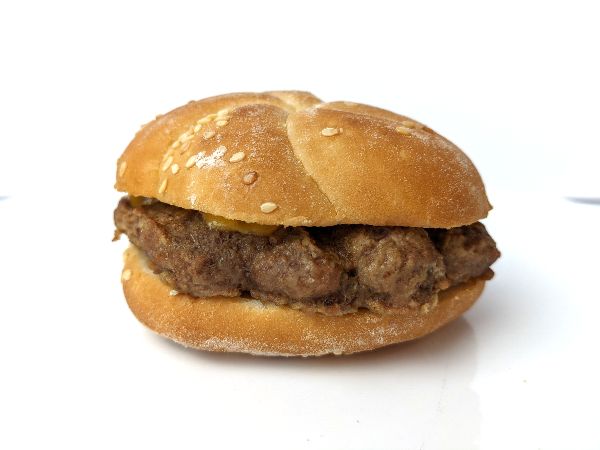 This burger already looks quite amazing by itself. Simply following the instructions makes it at least look pretty fantastic. Look at that patty. Did I mention how big it is?
Do kids like the Pierre Signature Angus Cheeseburgers?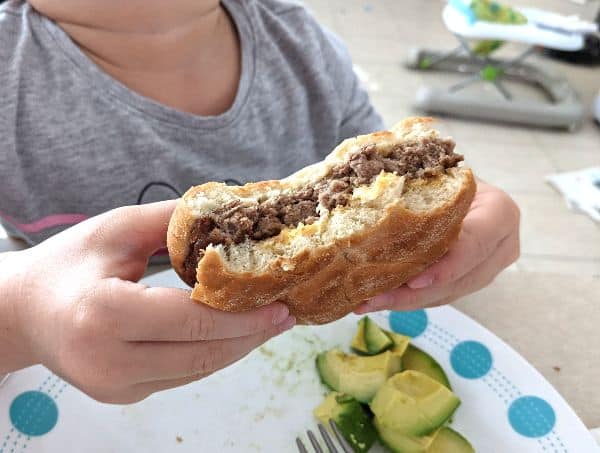 My little girl seems to love it. Here, she is showing you the insides and her teeth marks. She just loves burgers. She couldn't finish this entire burger, but she came really close! I had to scuff down the last 2 bites.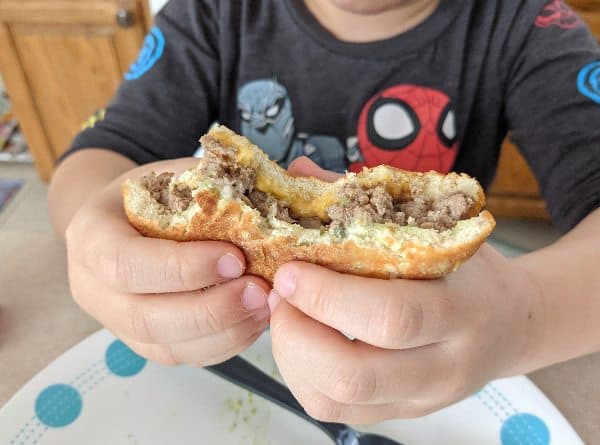 This boy finished the burger so fast. I was utterly impressed by how much he enjoyed the taste and how well he handled the burger. It was a pretty hearty meal.
He's generally a pretty slow eater. His little sister often beats him to finish every meal. However, this time, he was the first to finish. When asked if he wanted to eat it again next time, it was a no-brainer yes.
How did I prepare my Pierre Signature Angus Cheeseburger?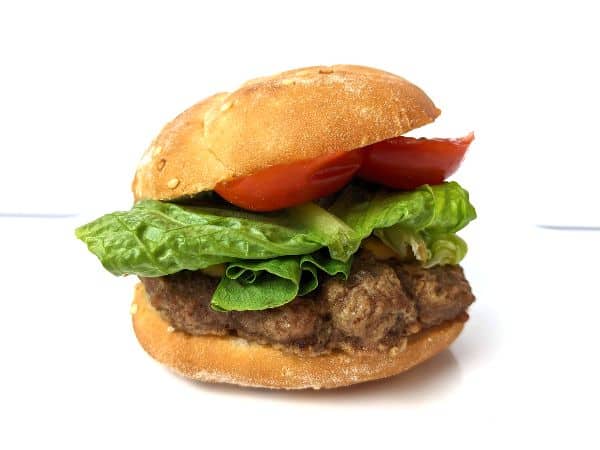 I like my burgers with the works. That includes lettuce, tomatoes, and onions. I would add bacon if I could but I just decided that I was too hungry to wait.
Maybe next time I'll even fry an egg and slap it under the bun as well.
How long does the Pierre Signature Angus Cheeseburger last?
So I purchased the box from Costco on February 18, 2021, and the box says it's best used until January 12, 2022. According to this, if you store the Pierre Signature Angus Cheeseburger in a properly conditioned freezer or refrigerator, you should get almost a good year out of it.
Again the box claimed specifically the term, "best if used by." This tells me that potentially it can last even longer than a year. However, the taste and nutrients may take a hit after such a date.
Who makes Pierre Signatures Angus Cheeseburgers?
Now, you're probably wondering who actually prepares, cooks, freezes, and packages these sandwiches. Pierre Signature Angus Cheeseburgers are produced by a company called Advance Pierre.
They are a nationally recognized supplier of value-added proteins and sandwich products to foodservice, retail, schools, and convenience channels across the United States. The company has been in business for over a decade.
They are headquartered in Cincinnati, Ohio with more than 4,000 associates, 10 massive facilities, 2 distribution centers, and 3 support centers.
They produce more than a million sandwiches a day.
If you'd like to learn more, visit their website here.
If you have comments or questions about them or this meal, you can call toll-free: 1-877-447-3279.
How would I rate the Pierre Signature Angus Cheeseburger?
Overall, it was a good burger. A good burger is often a matter of how flavorful the meat patty is and how well it goes together with the bun. In this case, the sesame seed bun combined with the American cheese on top of a thick meat patty made the burger very tasty.
However, it didn't have the taste of a fresh burger that came piping hot off of the grill. Don't go into this expecting something you'd find similar to your own home cooking or a typical burger joint.
It wasn't all peaches and cream. The salt level was a bit high for my liking. I would've voted for the brand to ease up on the sodium used to make this burger. It also tasted pretty fatty at the same time. This is one thing that really turned me off the most. I wasn't too much of a fan of the fatty taste, I just found it a little bit too much. However, it's something I think I could live with, especially with how hungry I was and how anxious I was to bite into it.
Like I said before, this burger fits the description and in my book is a pretty decent burger for something that needs to be thawed out before cooking. The size and even the weight of how it's made are very generous. No complaints there. The flavor was good as well.
This single burger did keep me mighty satisfied.
Pierre Signatures Angus Cheeseburgers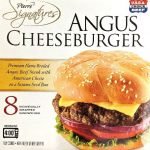 Premium flame broiled beef steak with American cheese on a sesame seed bun.
If refrigerated
Thaw sandwich in the fridge overnight

Open one end of the wrapper

Microwave at high power for 65-70 seconds

Let sandwich stand for 10 seconds
If frozen
Open one end of the wrapper

Microwave at 30% power for 3 minutes

Then, microwave at high power for 65 seconds

Let sandwich stand for 10 seconds
Ingredients
Fully cooked flame-broiled Angus chuck beef steak (chopped and formed)
Beef, encapsulated salt, sodium phosphates, spice, sesame seed bun: enriched bleached wheat flour (wheat flour, niacin, reduced iron, thiamine mononitrate, riboflavin, folic acid, enzyme), water sugar, soybean oil, sesame seeds, contains 2% or less of: yeast (yeast, sorbitan monostearate, ascorbic acid), salt, calcium propionate (preservative), monoglycerides with ascorbic acid and citric acid (antioxidants), calcium sulfate, enzymes, wheat starch, ascorbic acid.
Pasteurized process American cheese
Cultured milk, water, cream, sodium citrate, salt, sodium phosphate, sorbic acid (preservative), lactic acid, artificial color, enzymes, soy lecithin.
Contains
Milk, soy, wheat
Other interesting articles: