My Mochi Ice Cream Review: Surprisingly Light & Delicate Flavors!
How does My Mochi Ice Cream taste?
My overall tastel score on My Mochi ice cream would basically be a 7.5 out of 10.  Each flavor has its own unique characteristics. These weren't just generic tasting Mochi ice cream. The makers actually took a lot of time to differentiate and make sure the flavors were obviously based off of what they call them.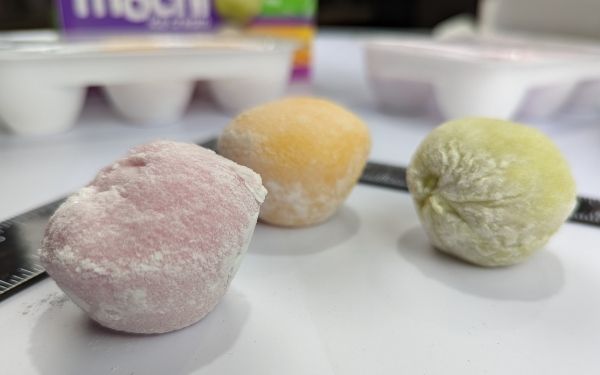 One thing I wanted to add is that the outer dough, the rice flour, was slightly sweet as well.
Strawberry mochi ice cream
Strawberry was probably my favorite. The outer dough was absolutely soft and subtle. The strawberry ice cream inside was sweet and smooth. I don't think I've ever had strawberry ice cream this smooth and creamy.
Green tea mochi ice cream
I would rate this one very good, but not as good as the other two. With the green tea, you definitely tasted the green tea flavors. it wasn't very sweet, but more a little bitter. However, it was smooth as the strawberry version.
Sweet mango mochi ice cream
 It was a really difficult decision to put this sweet sango mochi second under the strawberry.  It was a very very close second. I would give these a tie if I could, but I won't. You see, I love mango. And this ice cream Mochi did great.  yes, it was sweet both inside and out, and yes, it was smooth.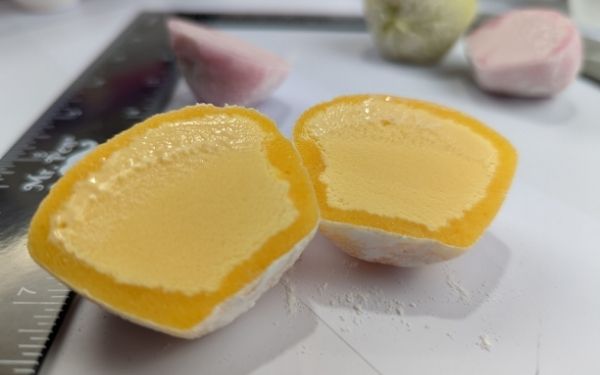 How to eat My Mochi Ice Cream
I want to warn you, these Mochi ice cream balls are pretty big.  And as I went through the company's website, they gave us some ideas on how we can eat them.
Cut them in half and eat them.
Eat them whole.
Drink it like a shake by blending a mix of flavors with milk.
Turn them into a cookie sandwich by placing a mochi between 2 cookies and smashing it down!
Make a Mochi ice cream float by cutting it in half and adding it to your soda of choice.
What I like about My Mochi Ice Cream
I absolutely loved the flavors and the varieties that were provided. Knowing that they have even more flavors than this got me excited. I might end up looking or ordering more of these online and trying out the different flavors that they provide.
 One of the things I want to give them praise for is that these Mochi ice cream balls are not that sweet. It's not overpowering with sugar or anything like that. I mean, the flavor is all there. Strawberry definitely tastes like beautiful strawberry, green tea tastes like the bitterness and sweetness of what you would have early in the morning, and the sweet mango was damn sweet but not too sweet. It was like eating the perfect mango.
What I do not like about My Mochi Ice Cream
All that powder that you see falling to the ground, that's actually rice flour. The company uses rice flour in order to prevent the Mochi from sticking to your fingers.  A generous amount of rice flour is coated around every sticky rice do Mochi ice cream that you bite into. In order to prevent all this rice flour from making a trail of white powder behind you, I recommend making sure you eat your mochi over a bowl or on the table.  This is especially important for the little kids since they will be moving around a lot and causing a mess.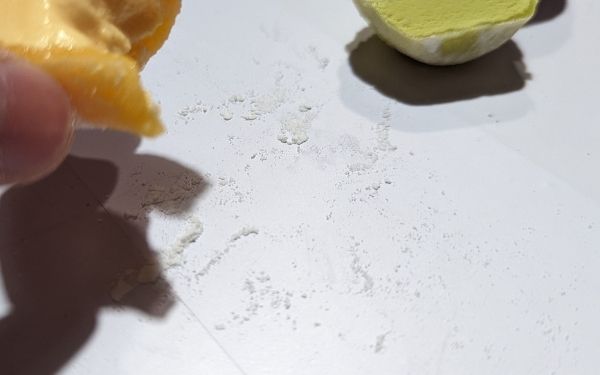 The company uses quite a bit of butter fat when it comes to the ice cream. This allows the ice cream to be even smoother and more flavorful. However, it might not be that great for your waistline though.
The unfortunate thing about thawing your Mochi ice cream is that the company does not recommend that you refreeze it after thawing. The good thing is that each Mochi is individually packaged in a set of 6. You can simply take one out at a time and eat it. And if you want more you can take more. But I recommend keeping it in the freezer and not leaving it out for too long.
What goes well with My Mochi Ice Cream?
I don't know about you, but as for the strawberry and sweet mango flavors, I decided to  make a bowl of fresh strawberries and  mangos to complement these Mochi ice creams. Yes, I think it went well together.
If you're eating the strawberry ice cream, then I would recommend that you find some fantastic looking deep red strawberries from your grocery store. Wash them, cut out the greens, and have them together with your strawberry mochi.
The same thing goes for sweet mango ice cream. If you can find yourself some really sweet mango from the store, grab it. Bring it home, peel off the skin, and cut them into little square pieces along with your sweet mango mochi all scattered throughout a bowl. I would use a spoon and eat it all up.
As for the green tea, I didn't really find anything that would work well with this. It's just a great snack to eat on its own.
What does My Mochi Ice Cream look like?
These Mochi ice creams have a creamy and colorful center that matches the flavor. Even the rice flour has coloring in it to match the ice cream as well.
While looking on the outside, it's not quite perfectly round. However it does for more of the shape similar to a cupcake. I'm guessing this is because they sit inside a little pocket tray similar to  a cupcake oven tray.
What's the texture of My Mochi Ice Cream?
Starting on the outside, the rice flour was so soft and chewy. Even if it's left in the freezer, you'll still notice that it doesn't freeze or get really hard. Instead it's just cold and chewy.
The exterior is pretty dry thanks to the white flour used on top of it to prevent it from sticking to your fingers.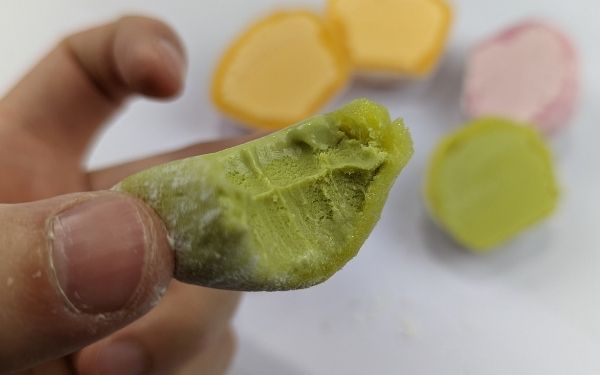 As we move inside, you'll find the center of all the attractions. It's the ice cream center.  It makes up the majority of the Mochi ball. It's also colored to match the rice flour layer as well. The ice cream is super creamy and it's intentionally made that way according to the company. It's explained by the company that they use as much butterfat as they can in the recipe. This helps create that smooth and creamy texture that you'll find here in this Mochi ice cream.
What are the nutritional facts of My Mochi Ice Cream?
| Nutritional compounds | Amount |
| --- | --- |
| Total fat | 11 g |
| Cholesterol | 35 mg |
| Sodium | 65 mg |
| Total carbohydrates | 71g |
| Dietary fibers | 1 g |
| Total sugars | 53 g |
| Protein | 5 g |
| Vitamin D | 0 mcg |
| Calcium | 110 mg |
| Iron | 0 g |
| Potassium | 215 mg |
This chart provides the nutritional facts found in My Mochi ice cream.
What are the ingredients in My Mochi Ice Cream?
One thing to note is the eggs that are used to make the ice cream are cage-free eggs. All the ingredients here are not made with any GMOs. And is certified by OK Kosher.
All ice cream is made using a high temperature and short time method which is the pasteurization technique used to kill bacteria.
Strawberry mochi ice cream
The strawberry mochi ice cream is made of milk, cream, cane sugar, strawberry puree (which were made using strawberries, sugar, water, natural flavors, and salt), whey,  nonfat dry milk, stabilizer compounds ( which is made of locust bean gum I'll try and guar gum),  natural flavors, citric acid, and beet juice concentrate (for color).
As for the strawberry Mochi dough, that consists of cane sugar, water, sweet rice flour, egg whites, rice flour, enzyme, beet juice concentrate (for color), and citric acid.
Green tea mochi ice cream
The green tea Mochi ice cream is made of milk, cane sugar, whey, matcha green tea, nonfat dry milk, citric acid, natural flavors, stabilizer compound (made with Locust green gum and guar gum),  red cabbage extract (for color), and turmeric extract (also for color).
Now, the green tea Mochi dough is made up of cane sugar, water, sweet rice flour, egg whites, rice flour, enzymes, turmeric extract (for color), and red cabbage extract (also for color).
Sweet mango mochi ice cream
The sweet mango ice cream center is made up of milk, cream, cane sugar, mango puree ( which is made of water, mangoes, lemon juice concentrate, natural flavors, annatto extract (for color), turmeric extract (also for color), whey, nonfat dry milk, stabilizer (made with locust bean gum and guar gum), annatto extract (for color), and turmeric extract (also for color).
Finally, for the Green Mango Mochi dough, it's made up of cane sugar, water, sweet rice flour, egg whites, rice flour, enzymes, and annatto extract (for color).
How long do My Mochi Ice Cream last?
The Box we purchased was about to expire about eight months from the day we bought it. I'd say that this is a pretty good amount of time for you to enjoy the entire ice cream.
It seems pretty standard for ice cream and frozen foods.
How are My Mochi Ice Cream packaged?
The packaging is inside a paper box. It's made of recyclable materials and is fsc-certified paper board. Within each box there are plastic trays with single-serve containers that hold each of the ice cream balls. They are sealed by a plastic sheet and you would have to peel it off to gain access to the Mochi ice cream individuals. These Plastics are made of polypropylene which is also recyclable.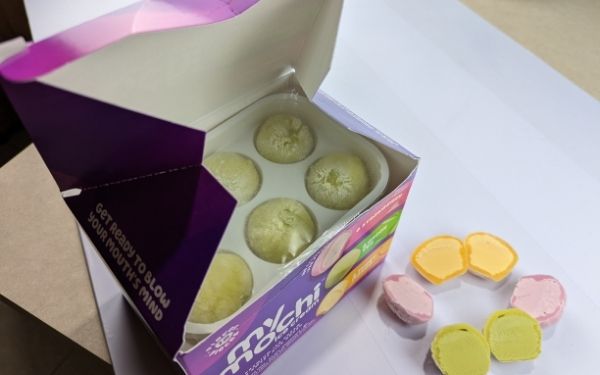 The package we purchased from Costco came in 18 little mochi balls. These mochi balls were separated into three different ice creams.
 If you think this might be too many, they do sell them in several individual smaller Pockets. I've seen as many as just a two pack serving sold at the store.
Who makes My Mochi Ice Cream?
My Mochi ice cream is made by a company called My Mochi. They've been in business for at least 5 years and they focus on creating everything mochi balls With ice cream centers.
They have a ton of flavors such as what we reviewed today along with other flavors like cookie and cream, double chocolate, s'mores, vanilla bean, dulce de leche, guava, salted caramel, and many more. As of now, they have a total of almost 18 to 20 different flavors. They always seem to be innovating and looking for new ways to pack delicious flavors into their Mochi ice cream.
Another fun fact is My Mochi ice cream company is also a company related to Mikawaya which is another Mochi ice cream company that is slightly different from the ones you see here.
Where can you find My Mochi Ice Cream?
You can find my Mochi ice cream at any convenience store or grocery store. I found mine at Costco, but you can also find it at your local Kroger, Fiesta, and even your 7-Eleven. Some of the Instacart online stores will also deliver these ice cream desserts to your door. And there are some places that even Amazon will send it to you as well.
Other interesting articles: