Brookside Dark Chocolate Strawberry & Passion Fruit Review: Bitter and Sweet!
How does Brookside Dark Chocolate Strawberry and Passion Fruit taste?
Honestly,  I'm not too much of a big fan when it comes to fruity tasting chocolate. It's just weird to expect something a bit bitter and sweet but instead get something overwhelmingly fruity as well.
However, I must confess that after trying Brookside dark chocolate strawberry and passion fruit for the past two weeks, I've grown a bit addicted to the taste.  Yes it's very sweet, but at the same time the dark chocolate makes it very bitter as well.
At first, I thought this would be very similar to one of those Valentine's Day chocolate covered strawberry treats that you'd find at the grocery store, but I was totally off. It was really nothing like that. Perhaps the smell of strawberries was apparent when you opened the bag, but the texture was completely different when you bit into it.
The powerful aroma of strawberries kind of throws you off but it's sort of inviting since I couldn't stop eating it after a couple weeks of bringing it to work in a Ziploc bag.
I'm still not a huge fan of chocolate and fruity gummies in the same bite, however I did find  my own way to eat it.  I would pop one of these chocolate balls into my mouth, and let it melt. Then all I would have left is the fruity strawberry gummies and then I would further go into those separately. This has since been my addiction.
Overall, at least for myself. I had to get used to it. It wouldn't be my first choice if I had the option for this and it's cousin, the one with acai. But I do appreciate that the company is working on different types of flavors. It makes things interesting.
What I like about Brookside Dark Chocolate Strawberry and Passion Fruit
One surprising thing I noticed about these little chocolate balls is that they don't easily melt in your hand. That's right it's kind of like M&M's but without that candy shell. These chocolate balls are perfectly smooth all over.
I also like that they are different shapes, and sometimes I can tell how big the fruity center is or how many of the wafers I have just by gauging the size of the chocolate.
 I'm not sure how to explain this, but I felt the genuine consistency they came into making each one of these candies. I appreciate how the manufacturing of this candy was so intricate that you knew exactly what to expect from each bite.
Sometimes I like to bite right into the center of the chocolate ball and take a look at the cross section for layers of chocolate and the gummy.
I loved how the dark chocolate was also pretty bitter in a way with a slight hint of sweetness.  The ratio of cocoa to sweetness was just perfect for me.
What I do not like about Brookside Dark Chocolate Strawberry and Passion Fruit
Like I said, I'm not a huge fan of chocolate and fruit in a single bite. I was able to bypass this issue, but I just simply let the chocolate melt in my mouth first and then had to chew into the gummy flavor.
What goes well with Brookside Dark Chocolate Strawberry and Passion Fruit
Brookside dark chocolate strawberry and passionfruit is great on its own. It is definitely a stand-alone snack or treat you can give yourself all day while you're at work.
One thing I haven't tried though is having one of these with actual real strawberries. I've been thinking about it to myself and wondering if that would actually be pretty good.
What does Brookside Dark Chocolate Strawberry and Passion Fruit look like?
On the outside, each one of these chocolate candies is full of luster and shine. Each little circular spear was probably about half an inch in diameter.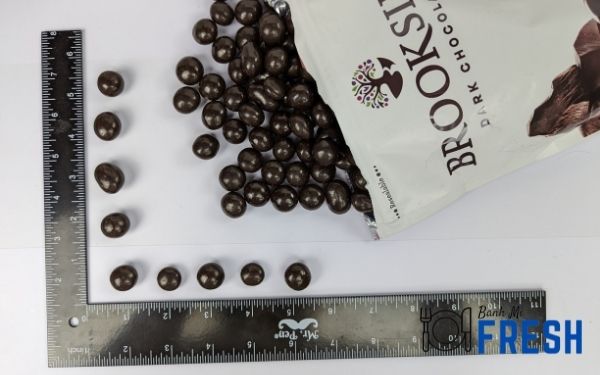 If you cut right into the middle, you'll see that the chocolate layer is pretty thick and consistently dark throughout.
As you get towards the center, you see that there are two Wafers of strawberry and passion fruit gummies on the inside smushed together.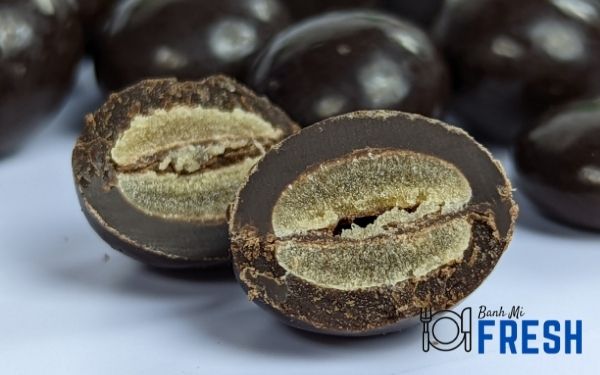 My wife told me that she had wished that the two wafers would just be one large circular ball of strawberry gummy. But I believe that the company was trying to create another ultra-thin layer of chocolate in between the fruity wafers. And that's what actually happened. In the middle of the chocolate candy, there is an ultra-thin layer of dark chocolate that separates the two wafers that are centered in the middle.
How's the texture of Brookside Dark Chocolate Strawberry and Passion Fruit?
The chocolate outside is incredibly smooth. It's consistent throughout. you can almost feel a crunchy texture when you bite through the chocolate shell. However, it does end up melting in your mouth weekly. But that isn't the case if you put it in your hand.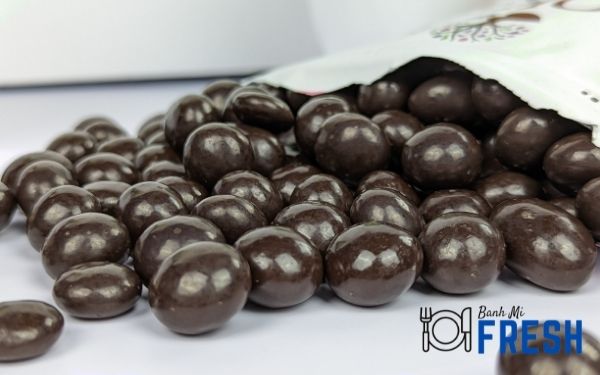 Sure eventually it will melt in your hand but I believe there is some sort of sprayed on external film that allows the chocolate a little bit more time before it starts to melt.
Update: I found out that it was actually confectioners glaze that was coating all the little candies in this bag. This is the stuff that provides the durability that won't allow it to melt easily.
After biting into this crunchy exterior and finding your way to the center. You notice that there is a gummy and chewy middle. The strawberry center is very chewy. It's so chewy in fact that bits of it may end up getting stuck in the back of your teeth if you chew on it.
What are the nutritional facts of Brookside Dark Chocolate Strawberry and Passion Fruit?
The calorie count is actually quite good when it comes to eating these chocolate treats. There's only 130 calories in every 12 pieces. And in those 12 pieces you only gained 3.5 grams of saturated fat which is about 18% of the daily value. You also get about 40 mg of sodium which isn't too bad. The total sugar intake is roughly about 17 grams when you eat all 12 pieces.
| Nutrient | Amount |
| --- | --- |
| Total fat | 6 g |
| Cholesterol | 0 mg |
| Sodium | 40 mg |
| Total carbohydrates | 21 g |
| Dietary fibers | 1 g |
| Total sugars | 17 g |
| Protein | Less than 1 g |
| Vitamin D | 0 mcg |
| Calcium | 0 mg |
| Iron | 1.3 mg |
| Potassium | 50 mg |
This is a table of the nutritional facts of Brookside Dark Chocolate, Strawberry, and Passion Fruit.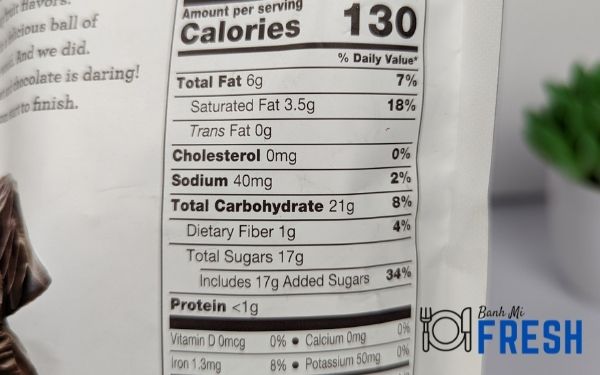 What are the ingredients in Brookside Dark Chocolate Strawberry and Passion Fruit?
The ingredients that make up this candy are dark chocolate ( sugar, chocolate, cocoa butter, cocoa processed with Alkali, milk fat, Lecithin (soy), salt, natural vanilla flavor, milk),  sugar, corn syrup, deionized apple juice concentrate, maltodextrin, passion fruit juice concentrate, natural flavor, strawberry juice concentrate, pectin, malic acid, baking soda, canola oil, sodium citrate, ascorbic acid, citric acid, and confectioners glaze.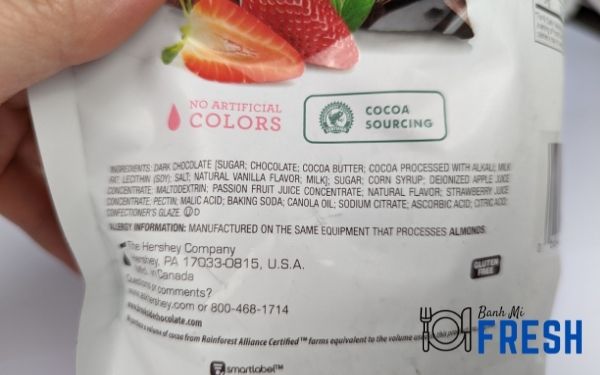 There are no artificial colors.
This candy is also manufactured on the same equipment that processes almonds just in case you have an allergy to that sort of thing.
How long does Brookside Dark Chocolate Strawberry and Passion Fruit last?
After buying this from Costco, I found out that the bag will last about eight months from the day I bought it. So I'd  say that as long as it is sealed in the bag, it will last about eight months or so. It's probably going to be a little less once you open the bag. I would just make sure that I eat it all within six months so that it would be as fresh as possible.
How are Brookside Dark Chocolate Strawberry and Passion Fruit packaged?
This candy is actually packaged in a really nice and thick aluminum bag. The bag has a ziplock to it so that you can seal it away. It's a pretty good seal because you really can't squeeze out any air after it's been closed off.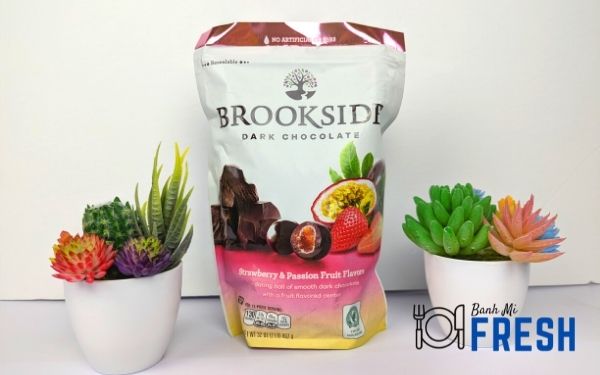 The bag is a little thicker than usual candy bags which I do appreciate.
Who makes Brookside Dark Chocolate Strawberry and Passion Fruit?
Brookside is actually owned by the Hershey company. This is a company that probably doesn't need any introduction because it's pretty much worldwide.
Where can you find Brookside Dark Chocolate Strawberry and Passion Fruit?
I found this bag at my local Costco, but after researching, I noticed that you can buy it literally anywhere. Most grocery stores like Walmart, Kroger, Albertsons, and WinCo will have this brand, and many of them will also have this flavor. And if you can't find it, you can always look it up on Amazon to have it shipped to your house.
Other interesting articles: