Review: Brookside Dark Chocolate Acai & Blueberry – Surprisingly Delicious!
Brookside Dark Chocolate Acai and Blueberry is a great treat for everyone in the family. 
It's loaded with a soft blueberry flavored gummy center and coated with a thick layer of dark but sweet chocolate on the outside. 
It's almost certain that you'll find these treats to be both a little salty, a little sweet, and all-around delicious all over.
Where can you find Brookside Dark Chocolate Acai & Blueberry?
Brookside's Dark Chocolate has been out for a long time.
You can find these chocolate brands at any of your major retailers including Target, Walgreens, Walmart, Sam's Club, Costco, Staples, and more. You can even conveniently have these delightful treats shipped to you with Amazon. It's usually found in the candy aisle with the rest of the chocolates.
How are Brookside Dark Chocolate Acai & Blueberry packaged?
In almost all iterations of the packaging, you'll find that Brookside likes to package its chocolate candies into thick plastic and aluminum-like bags. 
The exterior of the bag is usually white with pictures of the candies you can find inside. The interior has an aluminum layer which helps provide a complete barrier to light, oxygen, moisture, and bacteria.
It's an appropriate use of the packaging because with every package, no matter how small, you get a lot of candy.
The package has a ziplock fashion seal where you can keep in the freshness for even longer.
What are the nutritional facts about Brookside Dark Chocolate Acai & Blueberry?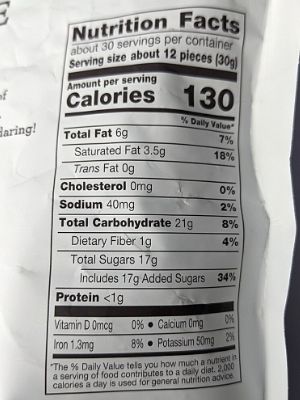 This bag comes in a total of 3 particular all-natural flavors. You have the dark chocolate coating, and the acai mixed in with a blueberry fruit center.
There are no artificial colors or flavors and it's also gluten-free. Its source of chocolate is also certified with the Rainforest Alliance which manages and helps protect the rainforests all over the world.
As for the nutritional label, in every serving which is about 12 pieces, you get roughly:
6g of fat
40mg of sodium
<1g of protein
17g of sugar
21g of carbs
The total amount per serving adds up to be around 130 Calories.
Now, this isn't by any means a low-calorie snack, nor is it too heavy on the bad stuff. But it's obvious that this a very addictive piece of candy and it shouldn't be indulged into too much.
The added fruit gummy in the middle probably doesn't add that much of a nutritional value to your serving so I wouldn't put too much emphasis on that either.
The sugar content is a bit on the higher side but 12 pieces of candy do seem like a lot so you can always limit yourself before hitting the serving mark.
Overall, I don't see anything too alarming here. Based on the natural ingredients and how it correlates with the nutritional facts found on paper, I'd say it's within the acceptable range.
What are Brookside Dark Chocolate Acai & Blueberry made of?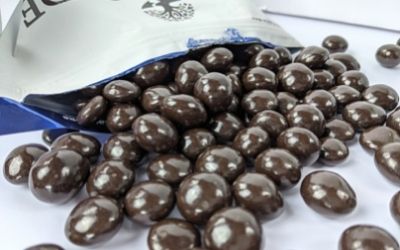 As I've explained before, there are 3 main flavors to this candy: chocolate, acai, and blueberry.
According to the label it's made with a variety of ingredients.
Dark chocolate
Sugar, chocolate, cocoa butter, cocoa processed with alkali, milk fat, lecithin soy, milk, salt, natural vanilla flavor.
For everything that's not chocolate
We see that it's made of sugar, corn syrup, maltodextrin, apple juice concentration, natural flavor, pomegranate juice concentrate, pectin, malic acid, apple juice concentrate, raspberry juice concentrate, blueberry juice concentrate, canola oil, pure concentration, cranberry juice concentrate, lemon juice concentrate, baking soda, salt, sodium citrate, citric acid, confectioners glaze.
Allergy Information
In the case of allergies, these candies are manufactured using the same equipment as their variety of other candies that contain almonds. So there might be a chance of almond remnants that might cross into this candy.
It's probably highly unlikely that a person with a nut allergy will have an issue, but the company has to make this a disclaimer if any accidents were to happen.
What do Brookside Dark Chocolate Acai & Blueberry look like?
Since these are dark chocolates, you'll see from the pictures below that the round little balls are almost black but at the same time, really smooth and shiny.
Each of these candies is made slightly different in size and shape but the over size doesn't vary by much. The center is also completely sealed off from the outside thanks to the perfectly smooth and round dark chocolate layer coating the outside.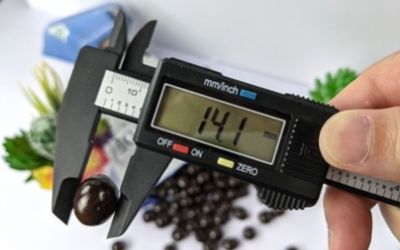 I did a measurement of the candy and you can see that one side of the candy is approximately 14.1mm in thickness and the longer end (which I don't show) is about 16.6mm in thickness.
I've taken the liberty to slice right through the center of the candy to expose the fruity center. And as you can see, it looks like the sweet center is fitted with 2-3 small half-moon-shaped gummy fruits.
What's the texture of Brookside Dark Chocolate Acai & Blueberry?
It's got a hard chocolate-covered shell with a gummy-bear-like texture on the inside.
When biting into the candy the first thing you'll experience is the thick chocolate layer that breaks apart.
Further in, you'll find the gummy and chewy center that's sweet and flavorful.
How long do Brookside Dark Chocolate Acai & Blueberry last?
According to the bag I purchased, it seems like the candy will expire after approximately 1 full year from the date it was purchased.
Is Brookside Dark Chocolate Acai & Blueberry any good?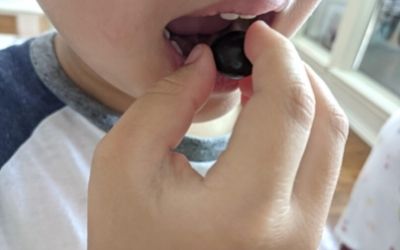 I sometimes gauge the goodness of a certain food by how much or how many servings I've had in a single setting. Based on my guesses, I've had many, MANY more servings than I should've had.
This is perhaps one of the most surprising candies that I've had in a long time. At first glance, I didn't think much of it.
But little did I know, I would have to say that these Brookside Dark Chocolate Acai & Blueberry candies are pretty amazing.
My kid enjoyed it so much he came back for many, MANY more.
After just 1 candy, I was immediately hooked. These candies are a little too good to be true and the flavor combinations, while nothing out of the ordinary on their own, makes a brilliant set of flavors.
I love it!
There are honestly no complaints that I have with this delectable treat. It's a combination of salty, sweet, fruity, and chewy.
I have almost no complaints that I can even think about when it comes to these treats. They are amazing!
Who makes Brookside Dark Chocolate Acai & Blueberry?
Brookside is a company that pairs mostly dark chocolate with a bunch of exotic fruit juice centers. Some of the other flavors you'll find made under the Brookside name are goji, acai, blueberry, and even pomegranate.
You can find their official stand-alone website here.
If you dig deep into the history of Brookside, you'll realize that it's currently owned by The Hershey Company. Hershey acquired Brookside back in 2011 because Hershey saw its potential and Brookside saw this as an opportunity to scale.
If you dig even deeper, you'll realize that Brookside Farms was founded in 1954 in British Columbia's Fraser Valley. Now it wasn't until around 1960 when they went into the chocolate business. And of course, in 2011 it was bought out.
So the point of what I'm saying is, Brookside has been in business for a long time, and being that it was taken over by another company who kept its brand the way it is, seems like a good settlement. I'm pretty confident that Hershey's also kept the ingredients and essence of the company intact while it was moving its forces to scale the company.
Other interesting articles: