Snak Club Tajin Peach Rings with Chili & Lime Review: Select Few Will Enjoy!
How does Snak Club Tajin Peach Rings taste?
I got to warn you, the minute you open the back there is a cloud of spice coming out from the peach rings. You can almost taste all of it through your nose. The Tajin seasoning exhibits a healthy amount of salty, citrus, and spicy flavors.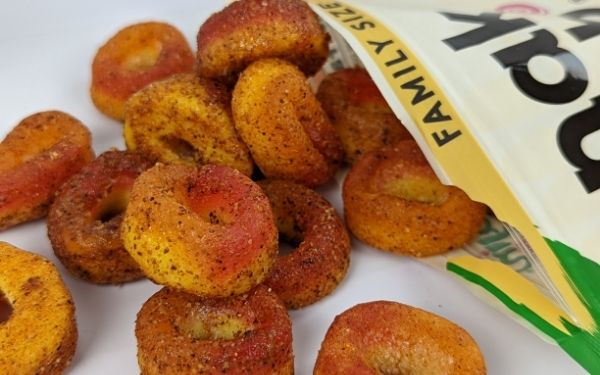 The chewy peach rings were incredibly thick. It felt almost a little too thick to be honest. But, the Tajin was definitely overpowering. And because of this, I couldn't taste the sweetness of the peach rings at all.
What I like about Snak Club Tajin Peach Rings
Frankly, it was difficult for me to find what I liked in this. The salty and citrus flavors were definitely okay, but I think they could have toned it down a little bit. I provided some to my co-workers and they immediately did not like it.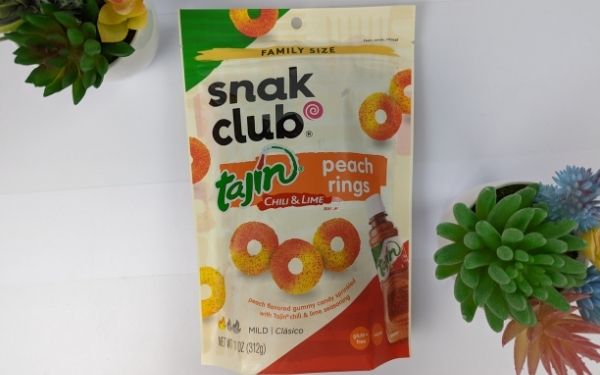 The idea of a spicy and sweet candy really brought me back to those old Mexican candies that I used to have during Middle School. This is what I was really hoping to get back memories of when I opened this bag and tasted it. Unfortunately that didn't happen.
One of my co-workers actually said that it's okay, it's not terrible. But it's not something that they would reach out for or get addicted to.
I do appreciate that it is gluten free and vegan.
What I do not like about Snak Club Tajin Peach Rings
There's a lot about this snack that we can talk about. First of all, the Tajin seasoning was way too powerful. The minute you opened the bag, there was a huge cloud of the smell and the spices that burst out. You can almost feel it in your eyes, but you can especially feel it in your nose. It was incredibly soggy.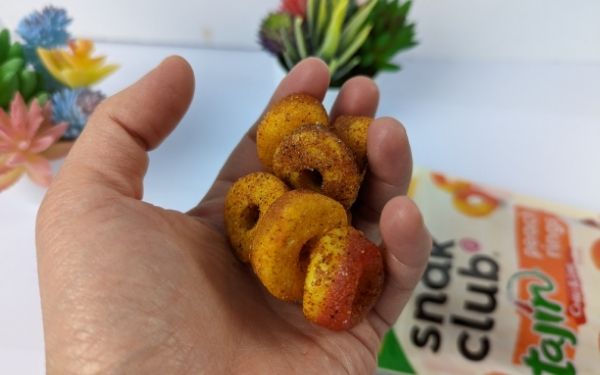 Once you touched it, your hands were filled with a slime-like texture. It made me want to immediately clean my hands. The peach rings themselves were really thick. They were nothing like you expect from regular peach rings. These are different. They're kind of big and the width was about half an inch. That was seriously thick. But when you bite into it, there's also a problem. I'm not sure if it was the Tajin or just the fact that they didn't make it sweet enough. I felt like it honestly tastes like licorice which isn't my favorite type of candy.
What goes well with Snak Club Tajin Peach Rings
I'm not even sure at this point. I didn't eat more than one. and even offering it to my co-workers ended up not wanting it either after the first bite.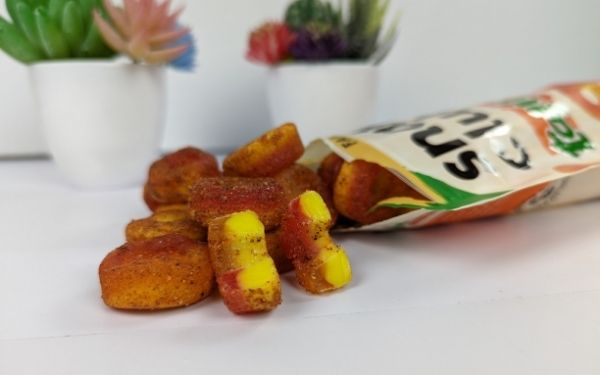 Perhaps you can throw it into an alcoholic drink? Maybe put the rings around the edges of the glass? It might help since it has a lot of Tajin in it.
What does Snak Club Tajin Peach Rings look like?
So, when you open the bag you're probably expecting the normal peach rings that you see everyday. You know, the ones at the store? These are the perfectly shaped peach rings that basically hold a perfect shape of the letter "O."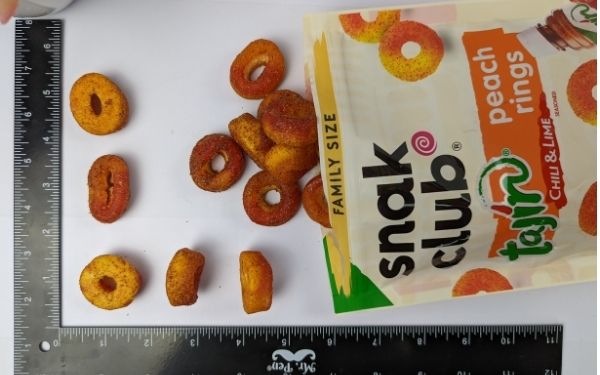 Unfortunately, that's not the case with these peach rings. These peach rings look incredibly moist and they feel that way too. Also they're so moist that they stick to each other and they don't hold their shape of  "O's." Instead many of them are squeezed together in the bag. 
How's the texture of Snak Club Tajin Peach Rings?
The snacks were basically  moist, sticky, and a bit over seasoned. the Grits of the seasonings didn't fall out because the stickiness was just so strong. It's the kind of stickiness that when you touch and then you let go there is a bit of cleanest still lingering on your fingers.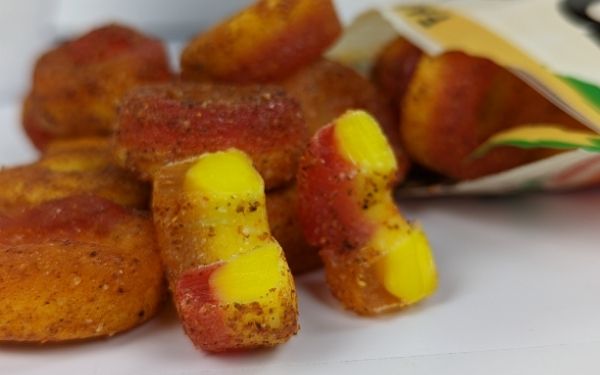 When you bite into the peach ring, you begin to notice that it's a little bit stale. It's hard but chewy at the same time once you start chewing it.
The only way I can describe it is that the outside is very soft, moist, and sticky. But as your teeth sink into the peach rings it gets a bit harder and you're going to have to force your teeth in more. I guess that's one thing I don't like about it is the inconsistency. It gets harder towards the center of the peach rings.
What are the nutritional facts of Snak Club Tajin Peach Rings?
| Nutrients | Amount |
| --- | --- |
| Total fat | 0.5g |
| Cholesterol | 0mg |
| Sodium | 270mg |
| Total carbohydrates | 25g |
| Dietary fibers | 0g |
| Total sugars | 17g |
| Protein | 0g |
| Vitamin D | 0mg |
| Calcium | 2mg |
| Iron | 0mg |
| Potassium | 15mg |
Nutritional facts chart of Snak Club Tajin Peach Rings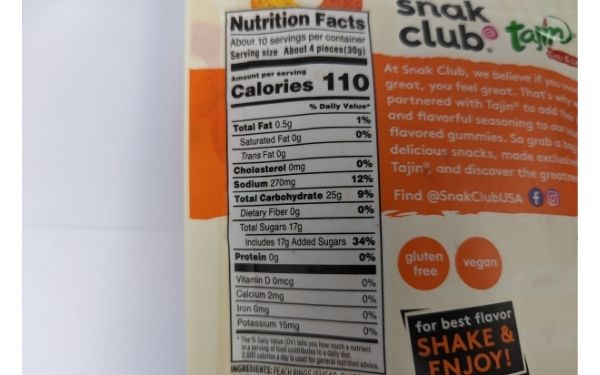 What are the ingredients in Snak Club Tajin Peach Rings?
Inside each one of these bags your going to find but it is made up of peach rings (sugar, glucose syrup, modified corn syrup, fumaric acid oh, citric acid, tartaric acid, malic acid, potassium citrate, natural and artificial Peach flavor, titanium dioxide Four Color and artificial colors Yellow 5, red 40, and yellow 6).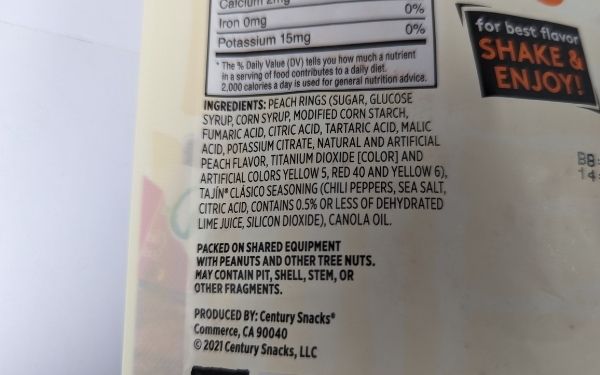 It also has Tajin Clasico seasoning which is made out of Chili Peppers, sea salt, citric acid, contents of 0.5% or less of dehydrated lime juice, and silicone dioxide and finally canola oil.
How long does Snak Club Tajin Peach Rings last?
Judging from the time that we bought this bag, we have about six months left to eat it all. So if you were going to buy a bag of this snack then expect it to expire within 6 months.
How are Snak Club Tajin Peach Rings packaged?
This street is packaged within an all plastic bag with a sealable end. It has a bunch of colors around it and the highlight of the colors are orange and yellow.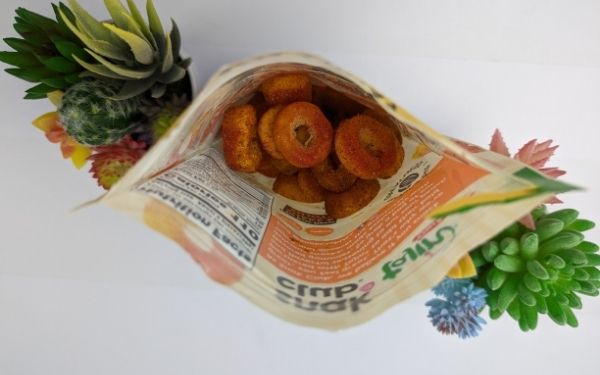 The plastic is fairly thick and that's a good thing since there seems to be quite a bit of moisture but still left on each one of these rings.
Who makes Snak Club Tajin Peach Rings?
Judging from their website centurysnacks.com they've been in business since mid 2016 so they have quite a few years under their belt. This also makes sense since Nerf website features a ton of different flavors and snacks.
Where can you find Snak Club Tajin Peach Rings?
Century Snacks  In all, their treats are usually found in many retail markets, including Costco, WinCo, Walmart, Sam's, Kroger's, Albertsons, and many more convenience stores.
You can also find their product online in markets such as Amazon which seems to be their main focus as an online retail.
Other interesting articles: